Download structure search results using right-click menu
You may also select one or more structures from the list and download using the right-click menu (see figure
7.8
). Choosing
Download and Save
lets you select a folder or location where the structures are saved when they are downloaded. Choosing
Download and Open
opens a new view for each of the selected structures.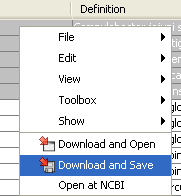 Figure 7.8: By right-clicking a search result, it is possible to choose how to handle the relevant structure.
The selected structures are not downloaded from the NCBI website but is downloaded from the RCSB Protein Data Bank http://www.rcsb.org/pdb/home/home.do in PDB format.
---