Navigation Area
The Navigation Area (see figure 3.1) is used for organizing and navigating data. Its behavior is similar to the way files and folders are usually displayed on your computer.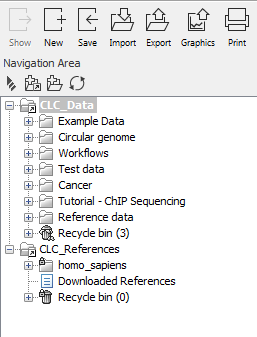 Figure 3.1: The Navigation Area.
Just above the area with the listing of data are 4 icons. From left to right, these are:
Collapse all (). This closes all the open folders in the Navigation Area.
Add File Location (). This is explained in Adding locations.
The Create Folder icon (), which is used to create new folders within a configured File Location.
The Update All icon (), which refreshes the view of the Navigation Area.
To provide more space for viewing data, you can hide Navigation Area and the Toolbox by clicking on the hide icon (

) in the top right hand side of the Navigation Area.
---
Subsections
---