Once a workflow is installed and validated, it is available for execution via client software. When you log in on the server using a CLC Workbench, workflows installed on the server automatically become available in the
Installed Workflows
folder of the
Toolbox
(see figure
13.3
).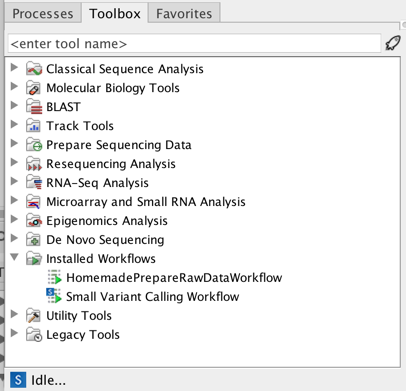 Figure 13.3: The Small Variant Calling Workflow is installed on the CLC Genomics Server, as signified by the blue S in the icon. The other installed workflow is installed locally, on the Workbench.
When you launch an installed workflow, you are presented with a dialog as shown in figure 13.4 with options of where to run it.


Figure 13.4: Selecting where to run the workflow.
Workflows installed on the CLC Server can be executed on the server or on a Workbench. Similarly, workflows installed on a Workbench can be executed there, or on a CLC Server. The only requirement is that the tools included in the workflow and any reference data configured for use by the workflow are available in the environment you wish to run the workflow on.
An important benefit of installing workflows on the CLC Server is that it provides the administrator with an easy way to update and deploy new versions of the workflow. Changes made centrally become immediately available for all Workbench users logged into the server.
---