Introduction
The
CLC Server
is the central part of CLC bio's enterprise solutions. You can see an overview of the server solution in figure
1.1
.
Here it is exemplified with the CLC Genomics Server.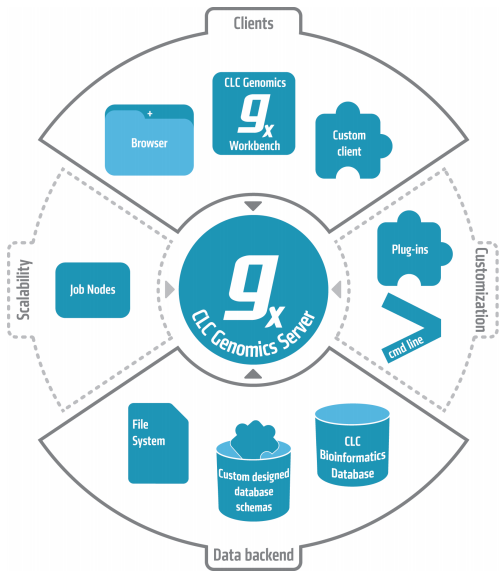 Figure 1.1: An overview of the server solution from CLC bio. Note that not all features are included with all license models.
The basic idea is that you can have the Server store data and run jobs centrally and thereby offload personal and typically smaller computers. For the user, the difference between working just with a Workbench and working with a Workbench and a server is very small. All the mechanisms for managing data, using the tools and visualizing the data are the same.
This user manual is intended to show how to take advantage of the server as a user. For information about administrating the server, please see the Administrator Manual.
The CLC Science Server is shipped with the following tools that can all be started from CLC Main Workbenchand CLC Server Command Line Tools:
Alignments and Trees

Create Alignment
Create Tree
Maximum Likelihood Phylogeny

General Sequence Analysis

Extract Annotations
Extract Sequences

Protein Analysis

Signal Peptide Prediction

Nucleotide Analysis

Translate to Protein
Convert DNA to RNA
Convert RNA to DNA
Reverse Complement Sequence
Reverse Sequence
Find Open Reading Frames

Sequencing Data Analysis

Trim Sequences
Assemble Sequences
Assemble Sequences to Reference
Secondary Peak Calling

Primers and Probes

Find Binding Sites and Create Fragments

Cloning

All three Gateway cloning tools

BLAST

BLAST
BLAST at NCBI
Download BLAST Databases
Create BLAST Database
Manage BLAST Databases
The functionality of the CLC Science Server can be extended by installation of Server plugins. The available plugins can be found at .
---